The first album of Kyssi Wète, Ce que tu me donnes, was praised by professionals and shared with the public in many auditoriums in Paris (La Maroquinerie, l'Élysée Montmartre, Le nouveau Casino, le Café de la Danse, Le Zébre de Belleville…) in the provinces and abroad. He has been particularly well received in Canada where it has been subject to a physical distribution and many concerts. With the experience of this first opus, Kyssi Wète is now preparing to present his new musical project, De quoi tu as peur ?
Songwriter, French interpreter. Kyssi Wète is of Congolese origin, it is in Paris on the benches of the faculty that Kyssi Wète did his first steps in music. Singer in a group of friends, he was introduced to the collective writing and stage.
If the song has always been part of his universe, it is the writing and the composition that will lead him to start a solo career and to learn guitar and piano.
He draw his inspiration for both his writings and his music, and in his curiosity about the world around him and his taste for all forms of music. His origins, his travels, many human and artistic encounters, and just his daily are at the heart of his creative universe.
But it is on stage that he specified his style. His taste for a combination of very festive title allows him to transcend his reserved nature and engage a strong and organic relationship with the public. This also helps to develop more intimate titles in which his sensibility and the particular timbre of his voice fully express.
It is his stage career that allowed him to record his first album in the famous Parisian studio, the studio Davout.
This first album thus echoes his early career : Ce que tu me donnes in 2010, was recorded under the conditions of a live .
His next album, De quoi tu as peur ? to be published in Spring 2016, opens a new chapter in his career. It gives them free rein to his talent as a composer and to his sense of melody and arrangement.
Written between Canada and France, Kyssi Wète explores new sounds. He speaks of living together that he tackles with poetry and humor undoubtedly strengthened by his multiple experience of living between different cultures.
The musical style is always inspired by reggae which is mixture with afro pop and even folk.
We say that the path followed by five years Kyssi Wète commands respect. The coming months will be under the sign of the great return of this unique artist … do not miss this opportunity to (re)discover him !
Last album
"De quoi tu as peur ?"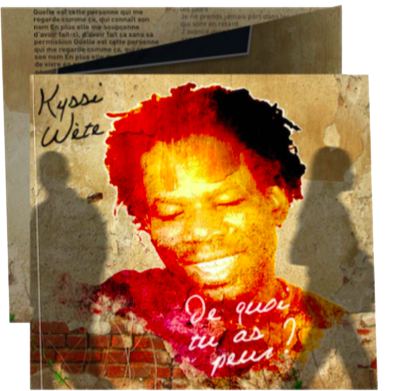 Listening :
"Ce que tu me donnes"
Fleurs aux mille couleurs
Dans les rues de nos villes
Move to the beat of reggae
Parle moi de la première fois